Barry 10k 2018 | BARRY, WALES
Travel
By Car
Please be aware that thousands of people will be aiming for the start of the race at the same time as you so we advise allowing plenty of time to travel and park. Barry Island is accessible via the A4232 (off Junction 33 of the M4), where you can follow signs to Barry Island. See more information here.
Due to road closures in the area to facilitate the event, we advise that all 10K runners arrive at the Event Village before 09:00am – especially if traveling by car.
A number of parking options are detailed below.
By Train
The race start is a two-minute walk away from the Barry Island train station.
One of the most reliable, stress-free and cost-effective ways to travel and avoid congestion is to travel to Barry by train in advance of the event – why not make a weekend of it?
If you are traveling on the day, there is one train to Barry Island from Cardiff that will get you there in time for the start of the race. It leaves Cardiff Central at 08:24 am and arrives at Barry Island at 08:56 am. There is an additional train to Barry Town Station which leaves Cardiff at 08:41, arriving at 09:04 – but this station is a 23-minute walk from the start-line.
Book train tickets here.
By Bike
We encourage sustainable transport where possible. A bike park will be available at the event at Nell's Point Car Park. Please note, bikes are left at the owner's own risk.
Parking
A number of official car parks will be in operation for the ABP Barry Island 10K, with park and walk or park and ride options available. More details will be confirmed soon. Please find details for parking from 2018 below.
You will need to arrive to the car park of your choice by 08:30 am to avoid road closures.
All are priced at £6 and machines do not give change and only take coins so please ensure you have the correct monies. If there are queues for the ticket machines on the morning, save time by paying with the Phone and Pay app, helpline (01708 209 678) or SMS line (07786 207 708) quoting the car park reference numbers below. We recommend either pre-registering or downloading the app before you arrive, to speed up getting to the Event Village.
Spaces in Maslin Park were available to pre-book in 2018. All other car parks are not pre-bookable and you must pay on the day. Click here for more information on parking charges and how to pay.
Please follow the directions of our signage and marshals who will direct you to one of our event car parks;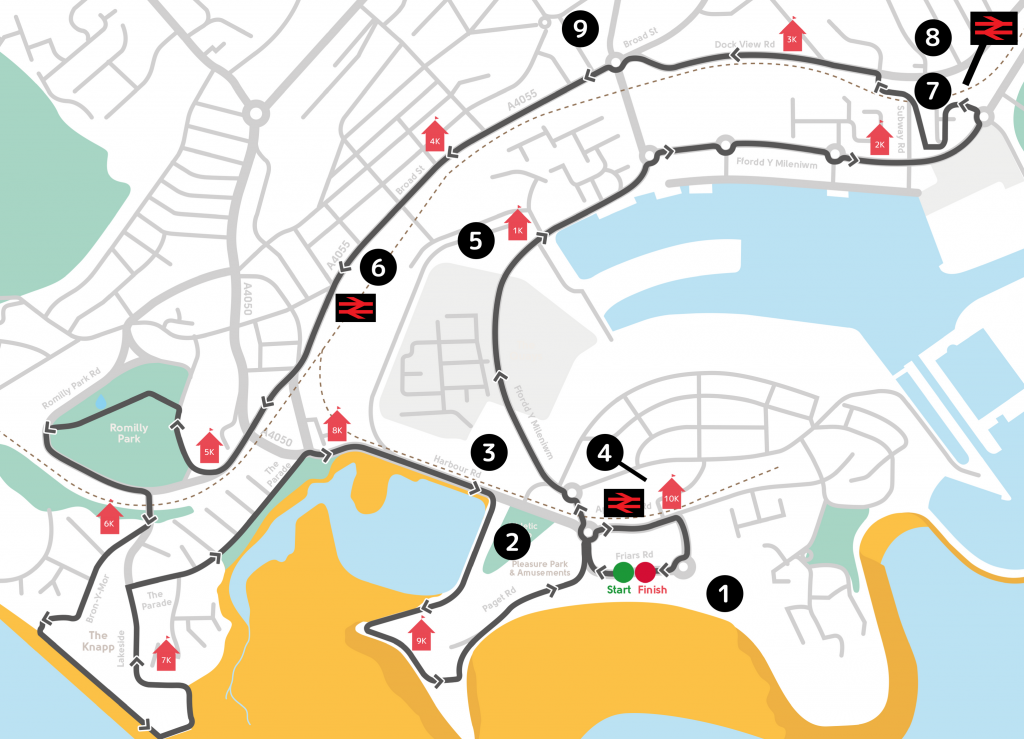 | | | | | |
| --- | --- | --- | --- | --- |
| Number | Car Park | Type | Postcode | Phone & Pay Reference Number |
| 1 | Nell's Point | Park & Walk | CF62 5AH | 3748 (Cars) 3749 (Coaches) |
| 2 | Harbour Road | Park & Walk | CF62 5TQ | 3740 (Cars) 3744 (Coaches) |
| 3 | Harbour Road Overflow | Park & Walk | CF62 5RA | 3740 (Cars) 3744 (Coaches) |
| 4 | Maslin Park | Park & Walk | CF62 5TZ | Pre-book only. Click here to book. |
| 5 | The Goods Shed | Park & Train | CF62 5QN | Details below |
| 6 | Broad Street (Train Station) | Park & Ride | CF62 7BD | Ticket Machine Only |
| 7 | Docks Office | Park & Ride | CF63 4RT |  Ticket Machine Only |
| 8 | Docks (Train Station) | Park & Ride | CF63 4RT |  Ticket Machine Only |
| 9 | The Memo | Park & Ride | CF62 8NA |  Ticket Machine Only |
Park & Walk
If you are using a Park & Walk car park, signage will direct you to the start line from the car park.
Park & Ride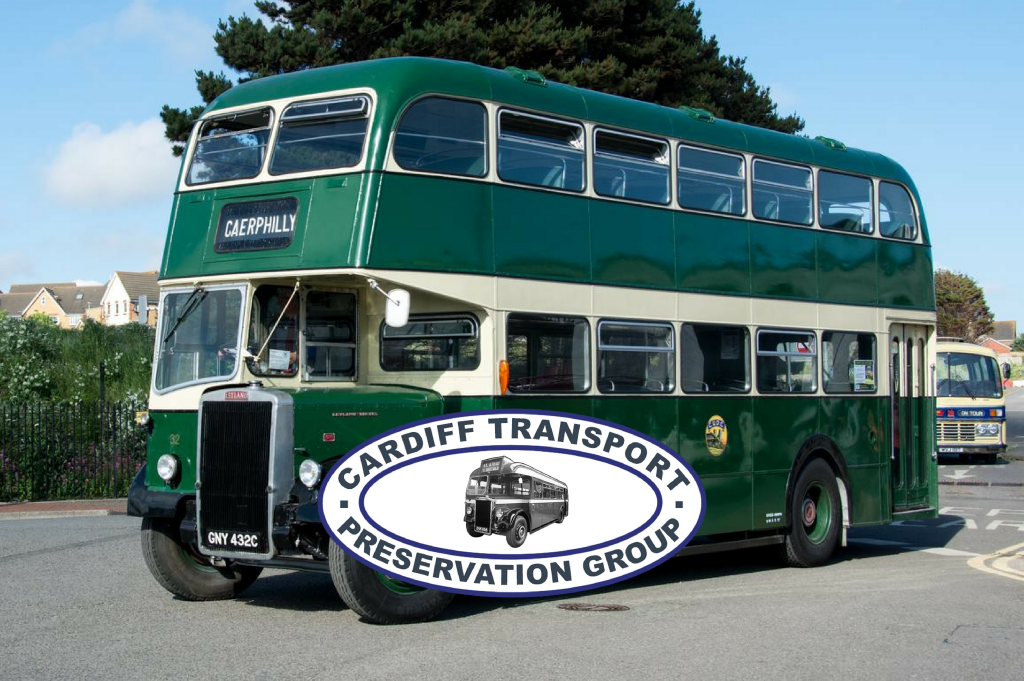 Park & Ride car parks will be operated by the Cardiff Transport Preservation Group who will be offering free rides between car parks and the event village on vintage buses. The group is a charity and will welcome donations on the day – to help keep their fantastic preservation work going.
Park and ride buses will drop participants off at the Harbour Road Overflow car park, a short walk from the Event Village. The first buses will leave car parks from 08:15 am and return to collect more runners every 15 minutes.
Return buses will leave approximately every 20 minutes from Harbour Road Overflow car park (where you are dropped) between 11:30 am and 2:00 pm but car parks will remain open all day.
Unfortunately, there is no provision for disabled passengers on the vintage park & ride buses (from the Docks Office, The Memo and Barry Train Station) but there are plenty of disabled parking bays in Harbour Road car park, close to the start/finish/event village.
Park & Train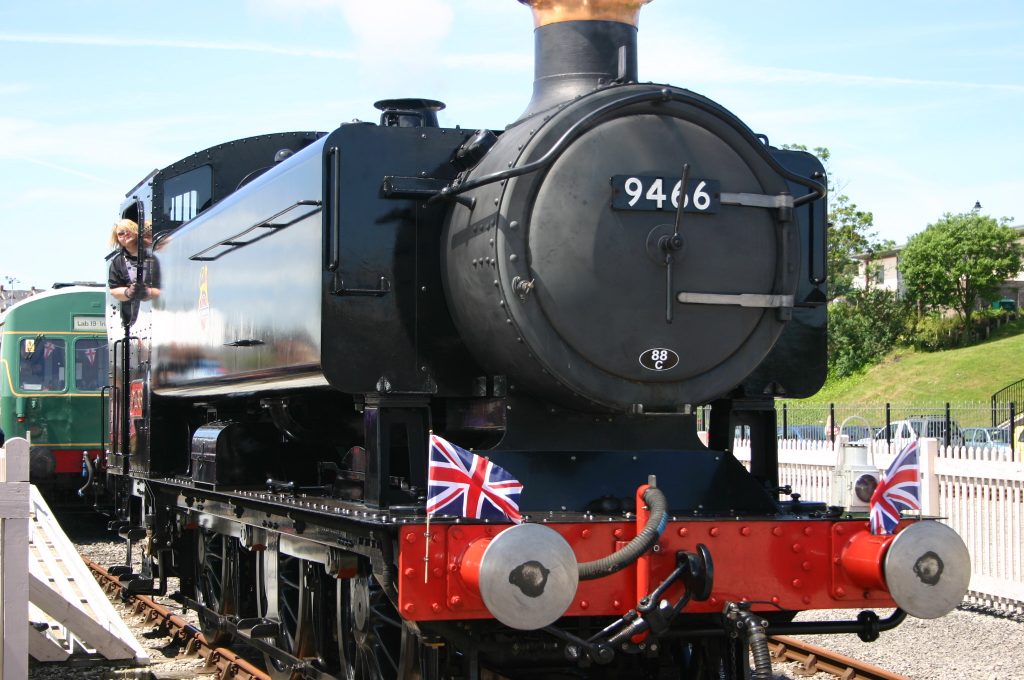 Park at Woodhams Halt Station (point 5 on the map above) and hitch a ride with the Barry Tourist Railway! Trains will leave Woodham Halt for Barry Island every 20 minutes, commencing at 08:00 am and running until 10:00 am. After this, an hourly service will be in operation with details available at the station. The cost to use this service (enabling a return journey) is £5 per carload (up to 5 people) and £10 for an MPV vehicle seating up to 10 people.